Watch the EnergyCite presentation video!
Our business is to help the nation's electric, gas and water utility companies increase their customers'
level of satisfaction.
.
EnergyCite creates a large and lasting recurring revenue stream for our stakeholders through our unique set of
value propositions
to the utilities and their customers.
Our utility account payment program allows customers to
pay their bills from their smart phone
at their convenience. Pay monthly, weekly or even daily as cash permits. Funds are electronically transferred at the press of a button.
Our PowerMasters Video Games make saving energy fun and easy
Our patent pending EnerG Link™ is a unique method of activating the consumer home area network radio inside the utility smart meter and establishing data communications between the meter, home energy management devices, and smart phones.
Our U.S. & foreign patents cover the data communications system topology graphically described by the diagram to the left.

The diagram shows the smart meter and its connectivity with the eight functional devices or services, plus the ability of the utility to connect or disconnect electrical service remotely, using internal switches within the smart meter.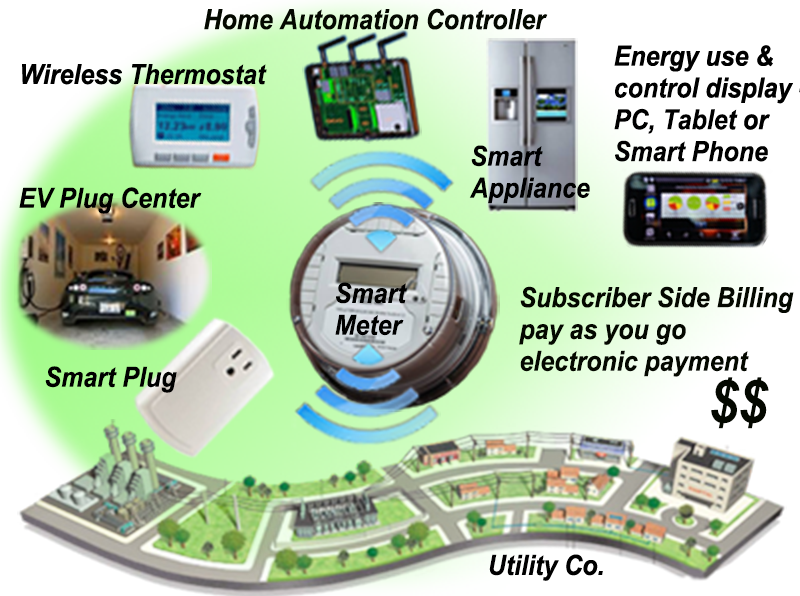 Click image to enlarge
Our Granted Patents:
USPTO patent 7,379,791
USPTO patent 8,306,668
USPTO patent 8,639,390
8,639,390 assignment to USCL Corporation
(correction from MGT Gaming when issued.)
Israel patent 181,099
Israel patent 221,157
China patent 0033605
EU Patent 1815213
Additional Patents Pending
Our
business strategy
develops a recurring revenue stream secured by the customer's electric utility account. We use subscription cloud services as the artificial intelligence leading to lower energy bills. This further insures long term customer relationships. We leverage the nation's electrical utility companies to reach 100 million potential customers. This expands to cover natural gas and water management.