The PowerMasters™ Game Series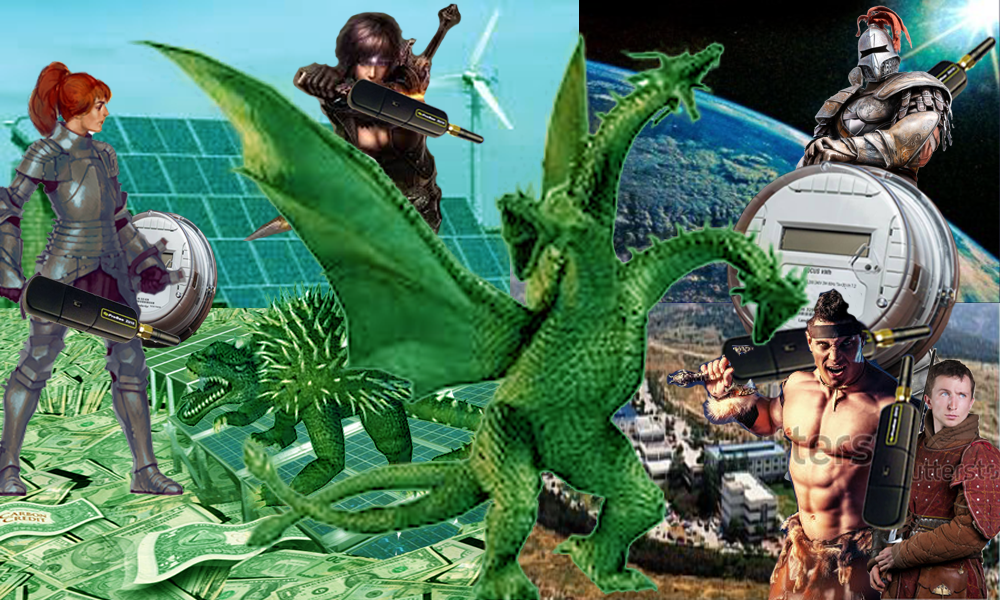 Overview
The PowerMasters™ series is a family of simulation games that allow players to manage power production in a game environment, utilizing real world data. These mobile app games interact with a patented technology used in smart meter devices installed in homes. The first of the 3 games in the series are based on ancient civilizations. The idea behind the game is to see what would happen if modern day power production was introduced thousands of years ago. Would resources for combustion engines run out? Would green energy sustain a growing population? Would nuclear power be safe? And would fusion power be mastered? These and many other questions can be answered by simulations.
Objective:
The PowerMasters series is designed to educate users on the long-term effects of managing power resources. By simulating ancient cities, game players get to see what would happen by making choices in which forms of power to use to meet the demands of a warrior class population. The smart meter technology can also assist in the education of power consumption, and award players with progress made in the home.
Target Audience:
The Millennial generation is fascinated with video games, and interactive media has been a staple for learning in the 21st century. With population increasing rapidly, and power demands going up drastically due to the reduced power production, and the introduction of mass produced electric cars, Millennials will need to understand the consequences of the choices made for producing power in the future for generations to come.
Benefits:
By presenting the concept of power production in an entertaining way, real world data can be applied so that players know the facts. They can experiment on an ancient civilization to try options for success.
How the Game Works:
An ancient civilization is visited by celestial travelers. These aliens from another galaxy offer your city forms of power in exchange for gold. The game objective is to acquire more gold and power resources to expand your city and its population. Your game starts with a set amount of free gold bars. You can acquire additional gold bars in several ways.
1. Win them through game play.
2. Received them as gifts from other players.
3. Purchase them with real money.
4. Get bonus gold bars from the use of your smart meter device.
When you start the game you will create a small city. Once you've set up your infrastructure you are ready for visitors or invaders.
When the first set of alien visitors land, you can open the shop menu to trade gold for power items. In the first level, you will have the option of purchasing steam powered engines. These engines can power your city or your defenses. Power sources can be part of defense equipment or can power the city, in which case they should be protected.
Since you have limited resources at first, you should try to protect your new power sources, so that your enemies don't raid them. Power allows you to train power soldiers or utilize power workers to build up your city faster. You must provide camps for these workers with adequate power supplies in order for them to be effective. Using gold wisely is the key to succeeding in the game before expanding the city. Without adequate power resources, a larger city is more at risk.
Invaders will come, so you will need to deploy power soldiers when an attack occurs, The Aliens will not interfere with the battles of primitive civilizations. You must use resources effectively as they become available to you to continue to expand your empire. You may suffer loses in battle .in which case you will need to rebuild damages and replenish casualties. If you win battles you will climb to higher levels. Higher levels will allow you to have greater resources, and your enemies will become more challenging.
Game Trailers for Pre-Market Crowdfunding Management:
This 4-part video series is designed for an ongoing marketing strategy for crowd funding. One video will be released every 2 months, until the crowd funding campaign is launched, and the final video will be released at launch.
1st Video -­ Power Masters Series – Scarab City – The Aliens have landed in Ancient Egypt, and have opened trading negotiations with the Pharaoh of Scarab City. The Pharaoh acquires steam power from the Aliens, allowing him to charge up Scarab City with 24-­hour lighting.
2nd Video -­ Power Masters Series – Romulus Empire – The Aliens have expanded to Ancient Rome. More forms of power have become available to the ancient world.
3rd Video -­ Power Masters Series – Meditropolis – Greece is the final civilization for the Aliens to experiment on. The fate of the world will depend on the balance of power resources, on this third civilization.
4th Video -­ Power Masters Series – The game is on, as all 3 world powers struggle to succeed towards the new age, and compete for power resources. This video demonstrates how the power meter data is translated to the mobile game app, and the use of real world power statistics are applied to the game simulation.
Our detailed Energy Resource Management presentation explains the Energy Scenario Model concept in its note section.
Our comprehensive Game Market & Business Overview section explains the industry and viability of the game market.
Our game Underlying Principals and Premise section provides the fundamental goals and guidelines to our development team.